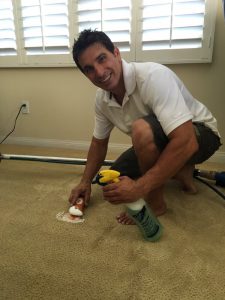 Cleaning the carpet at home can be a tough job. All the dust, germs and other minute particles which carpets accumulate over a period of time requires more than a regular cleaning. Professional cleaning will help to reach all the layers of the carpet and rid it off all the accumulated dust and debris which is not possible through conventional home cleaning techniques. Higher range of professional cleaning equipment is required to be able to effectively clean the carpets. A residential carpet cleaning service is the best solution to ensure that your carpets look clean as well as keep the environment within your house healthy.
Hiring professional carpet cleaners for residential purpose has benefits.
Carpets are cleaned in real sense i.e. not only the carpets appear cleaner outwards, but any dust, bacteria or other germs across the layers are cleaned. Professional cleaning methods like hot water treatment would help to kill nay bacteria or germs within the layers of carpet.
Best techniques to clean carpets of various materials can be determined by the professionals. The right machinery and means are employed to treat each material differently for effective cleaning.
All the efforts involved in moving around the furniture and physical effort of cleaning can be saved as we at Echo Carpet Services handle all these activities, so that you can leave the cleaning to us and you can focus on other things.
The cost of equipment involved in cleaning carpets is on the higher end. By hiring professional carpet cleaners, you can save on the costs of purchase and maintenance of the equipment. The costs that you incur in hiring a professional carpet cleaner are much less than the cost of buying the equipment.
Echo Carpet Cleaners is one of the best residential carpet cleaners in Irvine, and you can reach out to us through a phone call. We will provide you an end-end solution with top quality service for all your carpet cleaning needs wether at home or office.
Cleaning of a commercial space requires a specific skill set and coordination of different aspects. Echo Carpet Services provides you best service for commercial carpet cleaning in Irvine. Carpet at commercial space endures a lot more than a carpet at home, with more people walking over it and all the elements that it is exposed to. The area of the carpet to be cleaned would also be much more in comparison to the one at home. Hence it requires specific equipment which can handle such large spaces as well as understanding of the different type of cleaning that is required to get rid of the dirt and germs due to the heavy usage.
The products that are used to clean by Echo Carpet Services are eco friendly and non hazardous. Wether the requirement is to clean the carpet at your home or at the commercial place, Echo Carpet Services has the right tools and expertise to handle these various needs.
https://echocarpet.com/wp-content/uploads/2017/03/Echo-Carpet-Services-LOGO-1-300x118.png
0
0
https://echocarpet.com/wp-content/uploads/2017/03/Echo-Carpet-Services-LOGO-1-300x118.png
2017-11-08 03:45:36
2017-11-08 03:45:36
Echo Carpet – Best Residential and Commercial Carpet Cleaning Service