Cleaning up a carpet could be one of those long standing pending things around the house, that you intend to do but do not actually get it done. The thought of all the effort which is involved with cleaning the carpet can be quite discouraging. Even if you finally make up your mind to clean the carpet, you might end up not having the right tools nor know the right techniques to get the job done. Cleaning a carpet requires a lot of effort and expertise which can be better handled by professionals. We believe at Echo Carpet Services we are the best professional carpet cleaning service in your own town of Irvine, Ca.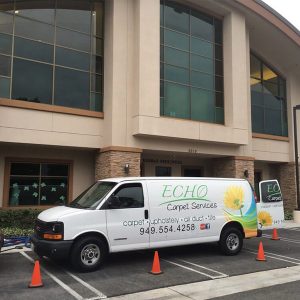 Being professional carpet cleaners in Irvine, we provide a whole range of carpet cleaning services with a personal touch. We offer all the advantages of being a local family run business by applying care and importance to your home as we would have treated our own. We at Echo Carpet firmly believe in customer retention and over the years we were able to build a loyal customer base through our top class service. Carpets, over a period of time accumulate lot of dust which not only cause damage to the carpet but also might result in health issues. We use the best techniques and equipment that effectively clean and sanitize your carpets. Our methods of cleaning are safe and non toxic, which does not cause any health related challenges to your family.
We have been consistently ranked as the top services for carpet cleaning in Irvine, Ca. Our continuous drive has been to keep improving on our professional services to ensure that we provide the best carpet cleaning services across Orange County. Not only carpet cleaning, we are one of the sought upholstery cleaners in Irvine. Our other services include cleaning rugs, air duct cleaning, tiles cleaning etc. Our services can be easily availed by calling us on our number. As part of improving our services to the customers, we have a free online estimate option wherein you provide us details online of the cleaning to be done and we would provide the estimate of the total charges. This will help you to plan accordingly.
Keep your carpet cleaning woes aside to spend your time and effort more effectively by allowing us to take care of what we do best i.e. cleaning the carpets.
https://echocarpet.com/wp-content/uploads/2017/03/Echo-Carpet-Services-LOGO-1-300x118.png
0
0
https://echocarpet.com/wp-content/uploads/2017/03/Echo-Carpet-Services-LOGO-1-300x118.png
2017-11-16 22:13:15
2017-11-16 22:13:15
Echo Carpet – Your Local Carpet Cleaning Service